By offering Independent Living, Assisted Living, Memory Care, Long-Term Care along with Home Health Services (to support independent living residents should they choose), we are able to provide a seamless transition in the aging process. That is the Journey of Care. Our residents can remain in the same 40-acre community as their healthcare needs evolve, without the stress for them or their families of trying to find a "suitable new home".
People who live at Glencroft, and those who visit our community often say, "There is a difference you can feel."  We believe that difference comes from the passion we have to carry out our mission, our vision, and how we live out our core values.
Our Mission
``We empower people to live their best lives.``
Our Vision
``Glencroft is the premier provider of affordable services enriching quality of life for everyone at every stage of life.``
Our Values
Integrity We adhere to the highest ethical standards.
Compassion We are sensitive to every person's unique needs.
Excellence We are accountable to deliver excellence in our work.
Innovation We develop and grow by providing leading-edge services.
Sustainability We use resources efficiently.
Collaboration We further our mission through cooperative efforts.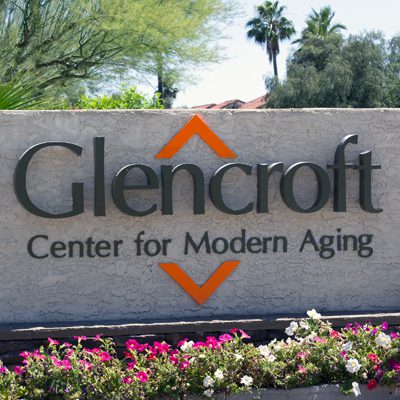 Our Journey of Care
Glencroft Center for Modern Aging is the largest continuum of care retirement community (CCRC) in Arizona. Our Journey of Care allows us to seamlessly care for our residents as changes in their health needs arise.
Our ZoeLife™
Many communities have their own resident wellness programs, but we believe that ZoeLife is unique in both the depth and breadth of information that it covers, and the fact that it is free to our residents. We are determined to stay ahead of the game in resident health and wellness care.
Single Location Community
Being a single-location community is a great benefit to our residents – their voices are heard as we evaluate improvements to the place they have chosen to call "home." Other organizations with multiple locations often make "corporate" decisions that could adversely affect the unique needs of each location; they may not even take into consideration resident input. Decisions at Glencroft are made to meet the needs of the residents at our Glendale property.
Not-for-Profit Organization
As a 501(c)3 not-for-profit organization, our organization benefits from a tax-exempt status which in turn benefits our residents. For-profit organizations retain earnings for their owners, pay real estate taxes and sales taxes that ultimately are recouped in monthly fees. Glencroft is tax exempt, and therefore our residents are exempt from these expenses. Over time, the savings to our residents can be quite significant especially with the concern many seniors have of outliving their money. As a not-for-profit, we traditionally have a higher caregiver to resident ratio than most profit structured organizations in our industry. This means lower turnover in staff and greater attention to resident care and needs.
Faith-Based Heritage
Glencroft is open to individuals of all faiths. We are a warm and embracing community that provides a sense of belonging to staff, residents, family members and guests alike.
Learn More About Glencroft
Schedule a tour
If you have any questions or concerns, or would like to take a tour, we would love to hear from you.
Call 623-939-9475 or use the Schedule button below.